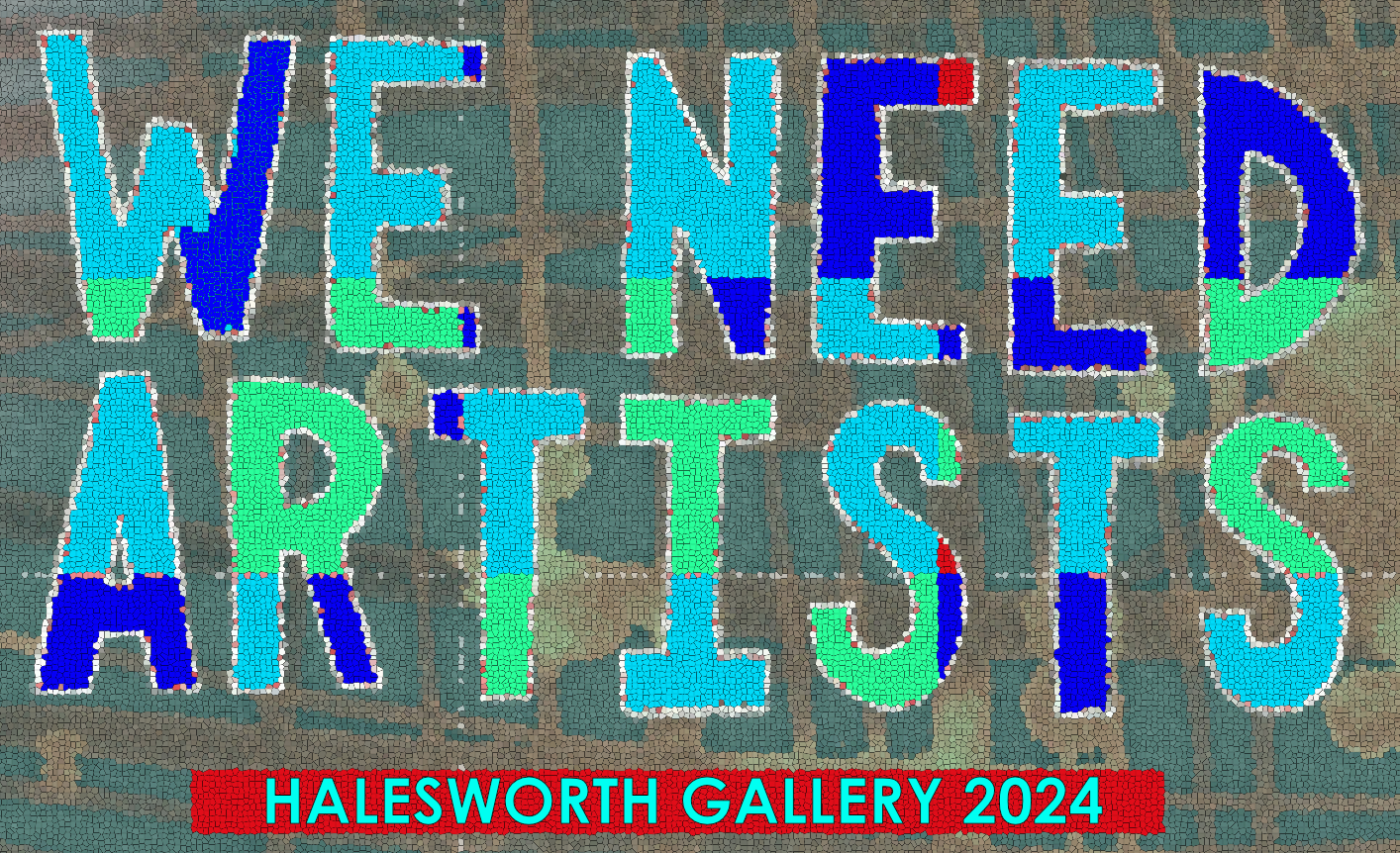 The Halesworth Gallery is looking for artists to show in 2024.
Notes for artists interested in showing at the Halesworth Gallery in 2024
DEADLINE 31 OCTOBER 2023
The gallery is open from May to September each year and the artists are chosen by our selection committee in late November of each year. We have up to a hundred applications each year to look at and we make six shows a year out of these applications. We generally allow a three to four year gap between artist's shows to give as many artists a chance to show as possible. There will be limited spaces available.
The gallery fee is £200 for each three and a half week show. Commission is 25% on all works sold in the gallery. Shows are stewarded by volunteers and artists are encouraged to steward their own show for a session or two; always an interesting experience. We have also had some success in 2017, 2018 and 2019 with artists doing demonstrations of their working method in the gallery and these have been very popular. We would encourage such events in 2024.
The gallery arranges publicity with local papers though further publicity arranged by artists is encouraged. You are welcome to attend these preview parties to see how we do things and to meet the team of volunteers who run the gallery. The preview parties are always well attended and the gallery supplies cheese and wine. Artist contributions to the wine stock are appreciated.
We also organise events, performances and community based art shows such as 100 Square Feet and we welcome any such interesting ideas and proposals.
When & Where Should I apply?
The selection committee sits at the beginning of each year in late November to select artists from the submissions we receive for the coming year. If you would like to be considered then your submission needs to be with our Exhibitions Secretary, Paul Cope, by the31 October 2023. Postal applications can be sent to the gallery at the address above. Our email is email@halesworthgallery.co.uk.
Photography of work
Good, clear, in-focus images showing your work at its best and giving us a good idea about the colours and textures of the work are required by the selection committee. Some indication of the scale of work is very important on an acompanying list of works or on the slide or back of the print. Indications of materials and technique are also helpful.
We are happy to view digital images of work submitted on CD or via email. Images need to be of a good quality and some indication of the size and material of the works is required. Powerpoint and other sorts of slide show are a good way to control the presentation of your work. A pdf can also be a good way to put image and text together.These can be easily made in Word or similar.
Websites, Instagram accounts and other such online galleries are all helpful.
If you would rather send us prints then digital images need to be of a high resolution initially and then printed out on photo paper to give a good clear image. Hetty's Print Shop in Halesworth can make good quality photo prints of online processors such as SnapFish provide an economical service. Print-outs onto normal typing paper are often of such poor quality that it is very difficult to discern the original colours and textures of the art works.
Statements
A short statement about your work with a brief CV is also helpful. Some indication of any art education and any previous exhibitions are interesting though not a neccessity by any means! We have a remit to show interesting art by young and up and coming artists. We exist to encourage people in their art making at all ages and levels. We make a selection based on the work presented to us but we do not nessecarily expect that to be the work in the show. It is always nice when artists make a new body of work for their show with us. Traditionally we have shown artists with a link with East Anglia though this is interpreted quite broadly.
If there are times in the season that you would prefer then please let us know and we will take this into account.
If selected, artists are invited to an artists' meeting on a Saturday morning in early March to look at the gallery and make the finer arrangements. Artists are responsible for delivering and displaying their work with the aid of our gallery manager, Alan Bennett, on the appointed day and arranging to collect their work at the end of the show.
Group Shows
We do sometimes show groups of artists. In 2018 we had a show of photographers as part of the PhotoEast Festival. The theme of the festival and the photography show was Belonging and this worked well to make an interesting and coherent exhibition.
The other was a large group show by artists who had all attended the Royal Academy Schools of Art. Whilst the artists were quite disparate in age and approach, they had enough in common through their shared experiences at the RA Schools to link the show together and make a successful and interesting exhibition. The show also linked with the Royal Academy 250 year celebrations.
For groups, we find these sort of approaches the most successful as far as making exhibitions are concerned. Strong themes and links to wider groups, events, festivals and concerns all add interest to an exhibition. We are always interested in ideas for community based projects and wide open shows such as the 100 Square Feet show of 2016 and Transference in 2019.
Good luck and we look forward to hearing from you.