Lorry Cudmore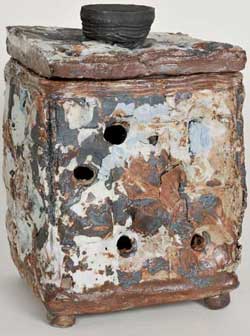 I am drawn to the textures, shapes and colours found in dry stone walls and natural rock formations. I am fascinated by the shapes and patterns formed by erosion in land and seascapes: the wild, uncontrollable and chaotic often resulting in a moment of meditation.
Inspired initially by Simon Carroll, my current work uses hand building, press moulding and throwing to create each piece. I work with four different clays, Black Chunky, Golden Harvest, P2 Porcelain and Toasted Stoneware , in order to create an effect that mirrors rock and stone surfaces that have been ravaged and stroked by weather, the environment and time. The contradiction of the smoothly eroded against rugged surfaces.
I like it that these contradictions combine for emotional effect for both me as maker and the observer. How the chaos of surfaces, colours, textures, shapes and form influence, dictate and enhance feelings. How a surface can affect an emotional response. Land and seascapes are constantly changing. Time is a moving concept. From conception to realisation, and at every point on the way, there are "moments" where that object, feeling, environment is captured. That "moment of stillness" is what I am aiming for. The decision as to the specific "moment in time" is based on any number of criteria thrown up by the journey from the beginning until………….
Lorry Cudmore's blog can be found here.